ETRTO (The European Tire and Rim Technical Organization)
ETRTO is a defined standard that ensures a perfect compatibility between rim and tire if both use the same ETRTO reference. For example, ETRTO "622" can be define as 29er and 700C in U.S. and Canada market, it also can be defined as 28" in European countries.
LINK: https://www.etrto.org/Home
Single Eyelets (S/E)
The stainless steel material resist to corrosion, it improves the strength around nipple holes, it also improve nipple and rim seat, reduce the wearing out of the nipples and rim.

Double Eyelets (D/E)
The stainless steel material of the external eyelet resist to corrosion. Together with the internal pan it improves strength of the rim by connecting the two walls of the rim walls. The strength around nipple hole is higher. Like the S/E it improve the nipple and rim seat and reduces the wearing out of the nipple and rim. Wheel building a double eyelet rim is easier as the nipple cannot fall in the chamber.
Internal Dimpling (I/D)
The spoke holes are drilled under two angles, radial and axial. The spoke and nipple line for wheels with big diameter hubs or small sized rim is adjusted. A better spoke nipple line guides to a longer lifetime of the spokes and a higher, more equal spoke tension. It is ideal for big hubs such as E-bikes or internal gear hubs and an excellent solution for heavy duty wheels. The dimpling adds also more contact to nipple and the deformation of nipple is less.
Offset
Many of Weinmann's high end rim have an asymmetrical shape where the spoke holes are not centered, but placed out of the middle of the rim. This allows a wheel a more equal spoke tension between left and right and as consequence, a stiffer and longer lasting wheel. Offset rim have advantages with disc wheels and cassette hubs. If offset rims are not needed, Weinmann supplies the same model of rim often in a symmetrical version.
Flat Hole
These nipple holes come in different diameter as an option for 13G nipples as well. We offer 12G (5.0mm) and 13G (4.7mm) and 14G (4.5mm). These holes are often directional drilled to improve the spoke nipple line up to a certain extent.
Safety Line
The system shows the rim wear without the risk that the rim sidewall collapse immediately without warning. The pin channel is opening up before the hook is collapsing. With the visible crack in the rim, the sidewall stay with it integrity, but it needs to replace ASAP. This prevents potential accident. Safety line is offer on all WEINMANN pinned (V-SHAPE) rims.

Wear Indicator Line
It is similar as safety line, as soon as concentric groove is worn off and disappear by braking pad on the sidewall, the rim has to be replace immediately. This function is design to reminder user that rim condition is going down. (This is for pin joint rim model only.)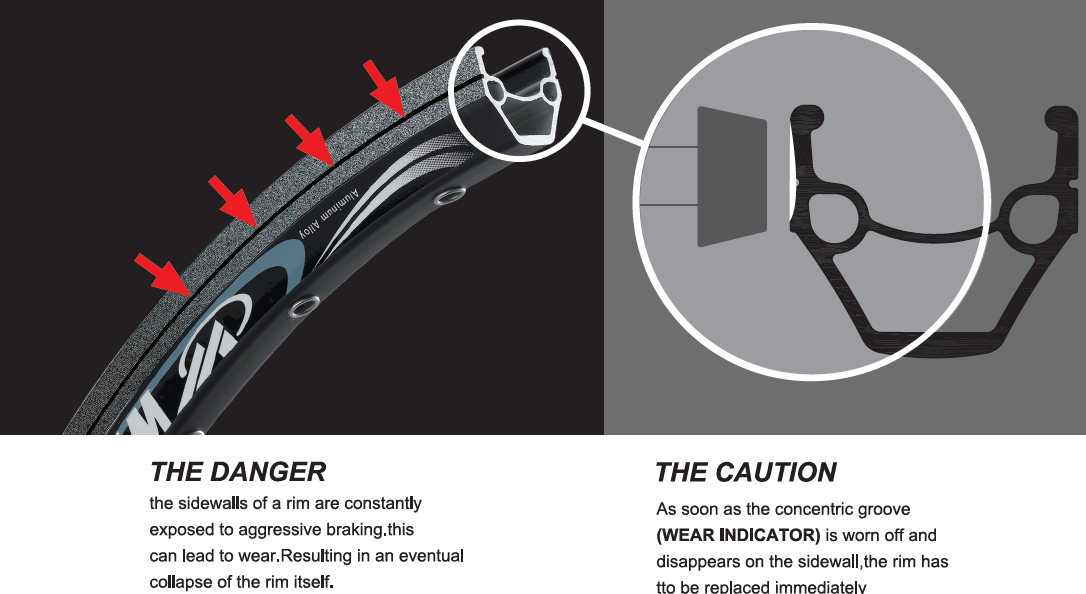 Thread Rolling Pin Joint
The thread rolling pin joint offer higher tensile resistance force and stability to the rim joint. The two channels add more weight and stiffness to the profile. Thread rolling pin joint rims and safety line wear indicator line work together in one construction unit.
Sleeve
For higher quality rims, WEINMANN offer sleeves and unique glues the rim at the joint. This technique gives a stronger and safer joint while allowing decrease of the weight. In fact sleeved joint rims allow a thinner wall thickness, resulting in an even lighter rim than with other techniques.
Tubeless Ready (T/L)
Most high end rim are tubeless ready. This means that it is not necessary to use an inner tube inside the tires.
Pre anodize
Anodization is lighter and even more scratch and impact resistance than powder coating. Anodization is done on the profile before manufacturing the rim. During the process, the rim surface is also hardened. Pre-anodizing is offed in two colors: black and silver.
Post colors anodize
Only the most high end rims are offered with this expensive treatment. The rim is anodized after the production process. All drilled holes are covered with a corrosion resistant layer offering a higher corrosion resistance. Like pre anodizing the surface is also hardened. Post anodizing is offered in ALL colors.
Peen Blast
This mechanical treatment offer a micro lite the surface to the rim, it surface is hardened by peen shooting. The peen blasted and post colors anodized work together resulting a elegant and higher scratch resistance surface. All extrusion marks disappear by equalizing the surface.
Hi-Polish
WEINMANN rims can also be offered with a polished surface in high speed. This time consuming process gives a very special design to the rim. As such bikes get also a special shiny look and higher oxidization resistance rim surface. This treatment is often a pre step of the post colors anodizing process.